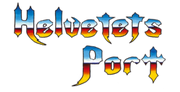 Biography:
Edit
The current swedish heavy metal scene is more alive than ever and blows in it's full beauty with killer acts like PORTRAIT, IN SOLITUDE and ENFORCER, which are highly dedicated to the big sound of the 80s and revive the cult of MERCYFUL FATE, IRON MAIDEN and JUDAS PRIEST in a very professional way. But then there is also a more obscure way with more peculiar ideas and very unique songs, free from ambitions to hit the mainstream and an immensely high level of creativity. HELVETETS PORT, formed nine years ago but still very young in age, go for the really twisted influences of the late 70s and early 80s from the UK, USA, Continental Europe and Scandinavia and forge their very own, very authentically sounding version of orthodox Heavy Metal out of these elements.
"Exodus to hell" is their debut album and will bewitch the listener with songs full of hidden corners, enchanting melodies and a warm, vintage overall sound that nearly screams for the ancient days. Not many could tell if this band was not an old act from 1981. The vocals are a mixture of mystical melodylines, diabolical high pitched screams and male choirs stepping out of line here and there and they make the listener feel right away that this band does not go for the charts but for the celebration of heavy metal's spirituality. The compositins take twist and turn themselves from passage to passage in a very easy and relaxed way, might feel a bit bulky in the beginning but unfold an irresisteble magickal aura in the end, only mainstream mutants will not get into.
The best example for this band's music is "Huvudiös Gestalt", sung in their native tongue. A picturesque journey through enchanted swedish forests that leads to their goal via intertwined paths. These paths might lead HELVETETS PORT, whose members you will meet as fans of great music at every german cult metal festival and whose albums has been produced by ENFORCER mastermind Olof Wikstrand, to the deserved glory one day . All in all one of the up and coming underground acts of the current traditional metal scene.
---
Witchfinder - vocals, guitars
O. Thunder - drums
Inquisitor - bass
K. Lightning - guitars
---
Discography:
Edit
Exodus to Hell (2009)
Man with the Chains (EP) (2010)
---
Website: http://www.helvetetsport.com/
---
Community content is available under
CC-BY-SA
unless otherwise noted.